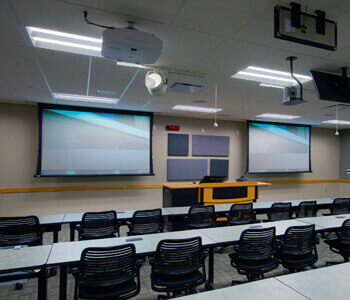 Gibson Electric specializes in the installation and design of audio systems, video systems, kiosks, digital signage for offices, board rooms, meeting / huddle rooms, conference rooms, and video conferencing locations.
Gibson Electric also specializes in general office automation, as well as automation in stores, malls, and other large indoor and outdoor gathering spaces.
Gibson Electric's audio/visual installation services include:
Installing all cabling, connectors, control, and audio/video equipment for conference and presentation rooms, video walls, paging, and sound masking systems, broadcast studios, etc.
Installing various equipment: microphones, sound speakers, video screens, video projectors, flat screen televisions and video monitors, recording equipment, etc.
Installing copper and fiber cabling to connect devices for AV control and connections.
Video and audio control systems.
Gibson Electric's additional value-added services include:
Verify equipment is installed according to designated layout.
Test and resolve equipment issues.
Maintain inventory of equipment.
Accept deliveries and move racks and equipment to final location.
To understand more about Gibson Electric's audio/visual solutions, contact us today.