Gibson Electric is a proven leader in infrastructure design services and data center cabling installation.
We can provide a variety of services, including performing the initial core and shell work for wholesale data centers.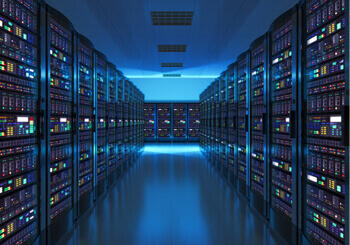 For room build-outs within the wholesale data center, Gibson Electric can install racks, cabinets, cable trays, and all associated structured cabling, fiber optics and power feeds for the enterprise tenant that leases that room.
Whether clients need sophisticated telecommunication systems, state-of-the-art automation, or advanced electrical power distribution systems, our team of certified and trained data center technicians and electricians can help clients with various tasks, including designing a fail-safe data center environment that promotes continuous operation.
Providing data center design and cabling installation services for clients across a broad range of industries—such as technology, financial services, telecommunications, healthcare, and many more—we deliver voice and data, network, and structured-cabling solutions to clients on a single-source basis.
Gibson Electric also provides solutions that utilize built-in redundancies, such as dual utility feeds, redundant generators, redundant uninterruptible power supplies (UPS), 480v switchboards, cabinets fed from dual sources, and power monitoring that tracks all the way down to the individual circuit level.
Data center services include: