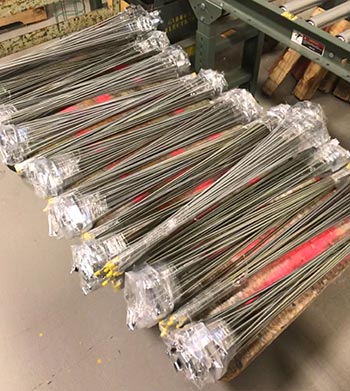 It takes expert project management and coordination to realize the benefits of prefabrication. The team at Gibson Electric has the industry experience and technical know-how to help deliver these results.
Gibson Electric avoids common missteps by communicating with other trade contractors, reviewing building plans, and coordinating work delivery schedules. Similarly, vendors are contacted early in the process to help guarantee every project has the materials needed at just the right time.
Advanced material-handling processes sort and organize materials, and also help ensure proper shipment and simplified installation.
Most importantly, Gibson Electric has the insight to envision a construction project from start to finish, determining which project materials should be prefabricated, at what scale, and exactly when to install them.
Service Offerings
Gibson Electric has the capabilities for a wide variety of prefabrication services, including but not limited to:
Conduit and raceway support systems
Equipment and device flexible connection assemblies
Panelboad modifications with conduits
Pre-punched boxes and brackets
Wired and non-wired device assemblies
Light fixture preparation
Large or small conduit bending
Temporary lighting or power
Branch circuit home run wiring bundles
Conduit sleeves