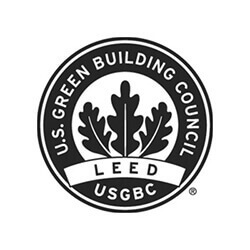 If you want to improve your facility's operating efficiency, reduce its energy consumption and costs, and increase energy efficiency and protect its value, Gibson Electric's LEED-accredited experts can help.
LEED stands for Leadership in Energy and Environmental Design, the U.S. Green Building Council's nationally accepted standard for designing, building and operating high-performance green buildings. Through LEED's rigorous accreditation program, professionals demonstrate their mastery of green building principles and practices, as well as the criteria a facility must satisfy for LEED certification.
Our LEED-accredited experts can help you achieve your most demanding green building objectives. That includes guiding and supporting green design, integrating electrical power distribution systems, telecommunication, structured cabling, and life safety systems and sub-systems to LEED standards, and expediting the LEED application and certification process.
Over the past several years, EMCOR companies have analyzed, designed or reviewed energy projects in more than 20,000 buildings for thousands of entities in business, government and academia. During that time, we've saved customers in excess of $250 million in annual energy costs and earned numerous national awards for our energy-efficient designs.
Our LEED Projects include:
For more information about our LEED-related capabilities in commercial electrical, telecommunication and life safety systems services, please contact us today.