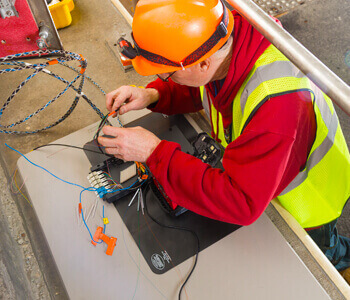 Electronic commerce has resulted in a tremendous need for switch sites and central offices.
Gibson Electric's reputation in the telecommunications central office niche is based upon proven DC power wiring and telecom services experience for clients like AT&T, Century Link, Nokia Network, Verizon, T-Mobile, Sprint, and many others.
Gibson Electric is adept at synchronizing the vast array of components involved in completing any size central office project.
Gibson Electric performs comprehensive contract work that includes:
Sophisticated telecommunications network backbone design
Installation
Startup
Switch wiring
Testing
Operations and maintenance
Integrated environments
We can also construct the commercial electrical power distribution and low-voltage systems within a client's integrated environments. We perform every step of the work along the way, including:
Installing the bays and racks.
Building the auxiliary framing and ladder racking.
Installing low-voltage cabling and fiber optics structured cabling.
Installing battery rooms.
Installing the primary dual-source power that includes cabling, conduits, distribution panels, transformers, generators, and uninterrupted power supplies (UPS).
Installing low-voltage systems.
Distribution to lighting control, voice and data communications, UPS and trans-voltage surge-suppression systems.
Installing fixtures and controls for lighting systems.
Our superior performance extends through every phase of the central office telecommunications construction and DC power systems installation work to result in a job well done.